Back to All News
Product News
Agrinos India, an American Vanguard Company, is pleased to announce it has received a prestigious first place award from the Federation of Indian Chambers of Commerce and Industry (FICCI) in the category of Innovative Product/Technology/Services Promoting Sustainable Agriculture Development.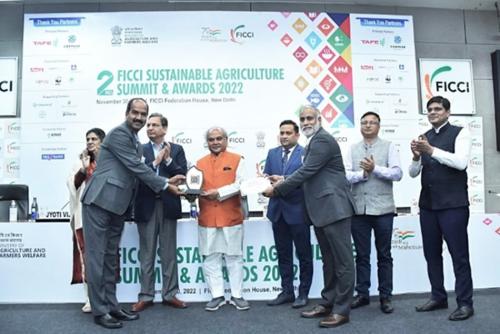 This is the second edition of the FICCI "Sustainable Agriculture Awards," the objective of which is to recognize and showcase programs that promote sustainable agriculture development and those that focus on improving farmers' income. FICCI is the largest and oldest apex business organization in India and the "voice of India's business and industry."
"Winning this award by securing first position is indeed a great honor for all of us at Agrinos India," said Rajagopal Selvasundaram, Vice President, Agrinos India. "We're pleased to be recognized for doing our part to help ensure Indian farmers continue to grow more sustainably as well as more profitably."
The Agrinos line of biologicals available for Indian farmers includes HYT® MC, which is produced by a proprietary fermentation process of naturally occurring soil-borne microbes and creates an enhanced crop nutritional environment; HYT® LB, a unique foliar nutrient solution that increases the activity of important metabolic and photosynthetic pathways in the crop; HYT® C, a nutrient-rich powder derived from organic, biologically extracted chitin and other crucial ingredients that improve plant nutrition; and HYT® M, which is an arbuscular mycorrhizal fungi (AMF) product using exceptional gel technology with a concentration of endomycorrhiza spores within the formulation; it is offered widely to farmers in India, greatly increasing crop nutrient and water absorption by extending the root system through mycelial growth and helping to alleviate environmental stress to the crop.
About Agrinos India
The biological platform of Agrinos®, an American Vanguard Company, works in conjunction with other nutritional crop inputs to increase crop yield, improve soil health, and reduce the environmental footprint of traditional agricultural practices. in.Agrinos.com
About AMVAC
AMVAC® is a subsidiary of American Vanguard® Corporation. American Vanguard Corporation is a diversified specialty and agricultural products company that develops and markets products for crop protection management, turf and ornamentals management, and public safety and animal health applications. American Vanguard is included on the Russell 2000® & Russell 3000® Indexes and the Standard & Poors® Small Cap 600 Index.
The Company, from time to time, may discuss forward-looking information. Except for the historical information contained in this release, all forward-looking statements are estimates by the Company's management and are subject to various risks and uncertainties that may cause results to differ from management's current expectations. Such factors include weather conditions, changes in regulatory policy and other risks as detailed from time to time in the Company's SEC reports and filings. All forward-looking statements, if any, in this release represent the Company's judgment as of the date of this release. www.AMVAC.com.
©2022 AMVAC Chemical Corporation is a wholly owned subsidiary of American Vanguard Corporation. All rights reserved. American Vanguard, Agrinos, AMVAC, and respective logos are trademarks owned by AMVAC Chemical Corporation.
All other trademarks are the property of their respective owners.
CONTACTS
Jim Sulecki
AMVAC Communications | 40 Seasons Media
jim@40seasons.com
(440) 537-0625