PROVEN CHEMISTRIES: CORE TO OUR business
Time-proven chemical solutions are core to American Vanguard, which was founded in 1969 as a regional contract manufacturer of agricultural chemicals and is now a fully integrated producer of branded specialty products including green solutions and precision ag technologies. Our tried-and-true crop protection brands encompass a wide and growing range of chemistries to control insects, weeds, and diseases in the agriculture, pest control, turf and ornamental, and vector (public health) sectors.
Key to building this wide product portfolio is a continued successful strategy of acquiring or licensing both new and well-established product lines that serve numerous high-value market niches. American Vanguard's acquisition of four herbicide brands from Corteva Agriscience in late 2019 is but one example.
Once in the American Vanguard stable, the vast majority of these products are quality-manufactured and formulated with patented formulation delivery systems at our own four safe and efficient operations strategically located throughout the U.S. and in Mexico (see map). American Vanguard has made significant investments in manufacturing technology as a key part of our to Environmental / Social Governance (ESG) commitment. Our manufacturing facility in Los Angeles, CA, for instance, is emissions free.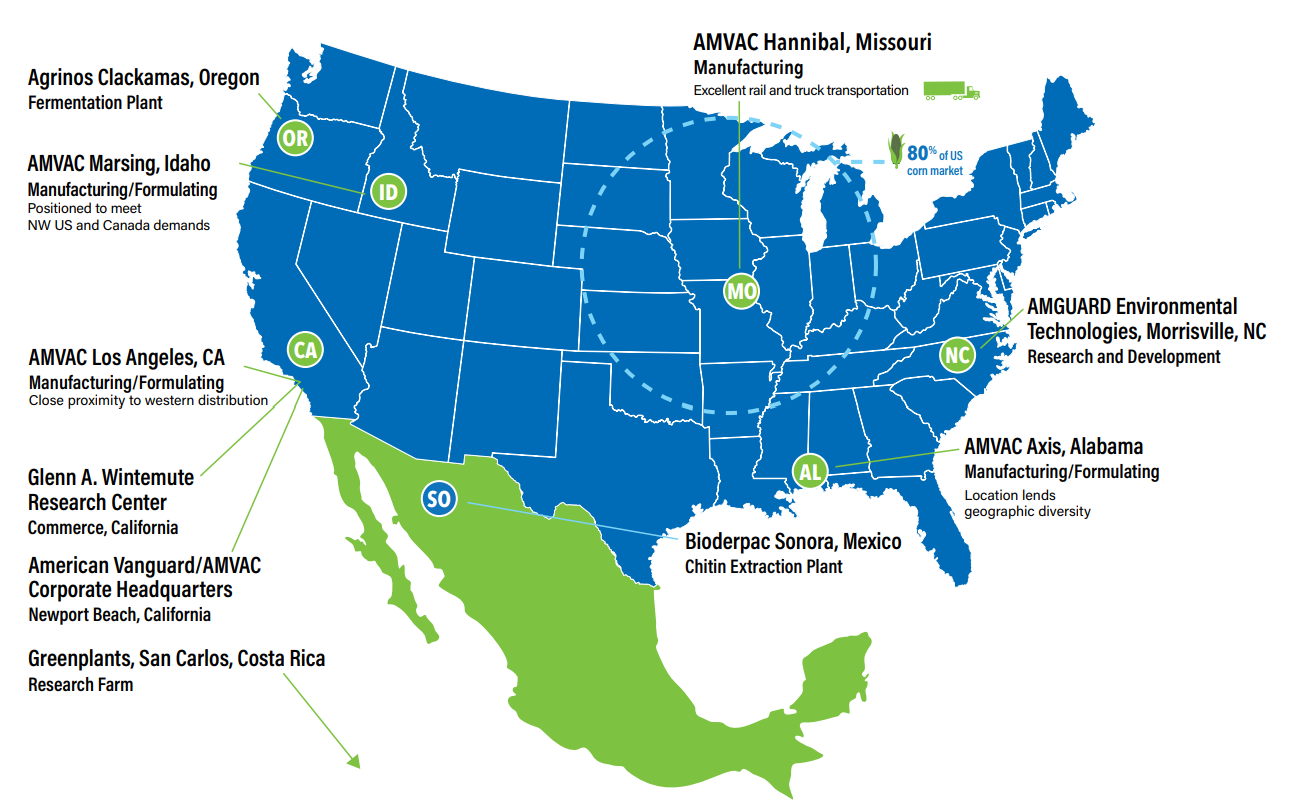 All branded products are skillfully marketed and expertly registered with the U.S. Environmental Protection Agency, using ongoing scientific study and risk analysis to ensure they are in compliance with government regulations and do not pose and unreasonable risk of harm to people or the environment when used according to label instructions.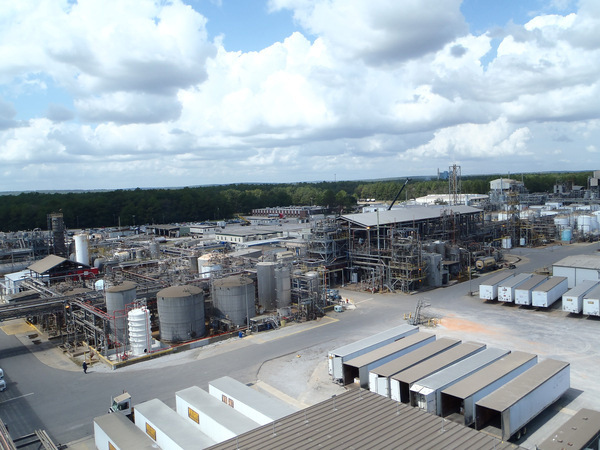 New product development provides an additional stimulus for growth, with a current robust pipeline of products – herbicides, insecticides, nematicides, and fungicides along with new packaging, formulation, and delivery options such as the SmartCartridge Container for the SIMPAS system – being brought to market beginning in the late 2010s and continuing through the mid-2020s. "Innovation with Speed and Discipline" is the motto of American Vanguard's development innovation process with operational excellence as a key strategic platform. AMVAC's Innovation Review Committee (IRC) is constantly developing, iterating, and onboarding new premixes and formulations of chemical products. The development and 2021 market introductions of Impact Core® and Sinate® Herbicides are two recent examples of this process at work. 
Product acquisitions and licenses – the May 2020 acquisition of Envoke® herbicide from Syngenta, for example – are continually ongoing at American Vanguard. Our portfolio of proven synthetic chemistries, paired with our growing stable of biological green solutions and our deep investment in precision ag technologies, help to ensure the growth of American Vanguard for many years to come.