Solutions Provider: Technology, Innovation, Sustainability
American Vanguard has come a long way since its founding in 1969 as a regional contract manufacturer of agricultural chemicals. Today we are a diversified technology-driven company that carries out R&D efforts in chemicals with a focus on synthesis and formulation development, as well as in biologicals and precision application.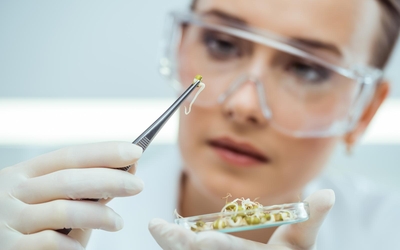 Combining American Vanguard's research and development investments – chemical, biological, and precision application – into one total brings our company's R&D to about 4% of total revenue. This well exceeds the R&D investment of many traditionally defined post-patent chemical manufacturers and approaches that of major R&D-driven multinational companies.
American Vanguard, in short, is a truly one-of-a-kind solutions provider in the areas of technology, innovation, and sustainability.
There are a number of major drivers in American Vanguard's evolution as a solutions-focused R&D organization. These include:
The Glenn A. Wintemute Research Center, which focuses on chemical synthesis as well as formulation development that helps to ensure safe and accurate delivery of active ingredients. American Vanguard to date has been issued or granted more than 20 patents in the U.S. and more than 50 outside of the U.S.
Envance Technologies, formed by American Vanguard and its subsidiary TyraTech as the emerging leader in effective and safe insect control technology. World-class R&D capabilities enable Envance to develop compelling ranges of new solutions for consumer, professional, and agricultural insect control markets.
LIFE-RID, the technical arm of AMVAC Latin America, providing innovation and research and developing solutions for the challenges of modern agriculture.
American Vanguard's basic research into precision application and data-driven technology, which has yielded the game-changing SIMPAS™ technology ecosystem for application of crop protectants and nutrients.
A host of research efforts in the burgeoning area of GreenSolutions™ – which includes the diversified portfolio of Agrinos, now an American Vanguard Company; OHP biosolutions, now integrated with AMGUARD™ Environmental Technologies; and direct access to emerging technologies from partnerships including Biological Products for Agriculture (BiPA), Biotor Labs, and the Emerging Pathogens Institute at the University of Florida.
Driving all these efforts is American Vanguard's development innovation process, with a motto of: "Innovation with Speed and Discipline." This helps to ensure that today's novel solutions will be just the beginning of many more in the years to come.