Back to All News
Product News
American Vanguard® Corporation (NYSE: AVD), through its wholly owned subsidiary AMVAC Chemical Corporation, is pleased to announce the extension of our North American partnership with NewLeaf Symbiotics® of St. Louis. Building on the agreement announced in late 2022, AMVAC and NewLeaf will collaborate to bring innovative biologicals solutions to multiple markets in key locations internationally. The expanded relationship now will include distribution in Argentina, Brazil, Ukraine, and China.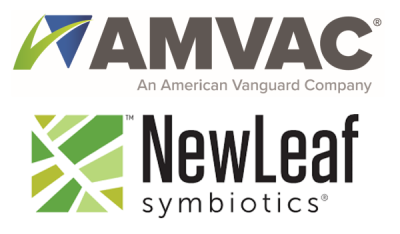 The extended relationship will expand and accelerate American Vanguard's growing GreenSolutions™ biological portfolio internationally and facilitate NewLeaf's objective of securing wider market penetration of its unique and proprietary PPFM technology.
AMVAC will leverage its international market access, strong sales teams in Latin America and Ukraine, and its operational expertise relating to our portfolio of GreenSolutions™ biologicals. The international expansion builds upon the 2023 launch of AMVAC's BioWake™ dual-use biological seed treatment application in the U.S. planter box market. BioWake leverages NewLeaf's microbial inoculants, along with Low Mu Tech's DUST soy protein planter lubricant, to provide growers a safer, greener alternative to current talc- and graphite-based seed lubricants.
NewLeaf brings to the partnership its proprietary microbial library, proven research and development capabilities, and current product offering including naturally occurring microbes that deliver a range of benefits to crops throughout the entire growing season. Leading this new class of ag biologicals are NewLeaf's microbial inoculants, which can make crops stronger, more resilient, and more tolerant of abiotic stress throughout their life cycle.
Mr. Bob Trogele, COO and Executive Vice President, AMVAC, said, "We have worked with NewLeaf for two years now and continue to see the unique benefits for growers who are increasing yield on soybean and corn, while also providing a meaningful ROI. NewLeaf's technology, coupled with Low Mu Tech's soybean-based seed lubricant, will help us extend our BioWake brand internationally."
Mr. Brent Smith, President and CEO of NewLeaf Symbiotics, said, "We are excited to build on our relationship with AMVAC in the United States and beyond. We anticipate BioWake™, driven by our PPFM technology, will have great impact on the acre. And we know that NewLeaf and AMVAC will see great future success together by leveraging AMVAC's market access in Central and South America, Ukraine, and China. We are thrilled with the evolution of our partnership."
About American Vanguard
American Vanguard Corporation is a diversified specialty and agricultural products company that develops, manufactures, and markets solutions for crop protection and nutrition, turf and ornamentals management, commercial and consumer pest control. Over the past 20 years, through product and business acquisitions, the Company has expanded its operations into 19 countries and now has over 1,000 product registrations in 56 nations worldwide. Its strategy rests on three growth initiatives – i) Core Business (through innovation of conventional products), ii) Green Solutions (with over 130 biorational products – including fertilizers, microbials, nutritionals and non-conventional products) and iii) Precision Agriculture innovation (including SIMPAS prescriptive application and Ultimus measure/record/verify technologies). American Vanguard is included in the Russell 2000® and Russell 3000® Indexes. To learn more about American Vanguard, please reference the Company's web site at www.american-vanguard.com/
The Company, from time to time, may discuss forward-looking information. Except for the historical information contained in this release, all forward-looking statements are estimates by the Company's management and are subject to various risks and uncertainties that may cause results to differ from management's current expectations. Such factors include weather conditions, changes in regulatory policy and other risks as detailed in the Company's SEC reports and filings. All forward-looking statements, if any, in this release represent the Company's judgment as of the date of this release. For additional information on products and services visit www.AMVAC.com.
©2023 All rights reserved. AMVAC Chemical Corporation is a wholly owned subsidiary of American Vanguard Corporation. American Vanguard, AMVAC, BioWake, GreenSolutions, and respective logos are trademarks owned by AMVAC Chemical Corporation.
About NewLeaf Symbiotics
NewLeaf Symbiotics is an agricultural biotech leader that is focused on the discovery, development, production and commercialization of products containing beneficial plant microbes. The pioneer and global leader of pink-pigmented facultative methylotrophs (PPFMs), its technology outcomes include increased yield potential and sustainability indicators. Headquartered in the Ag Innovation capital of St. Louis, NewLeaf has filed more than 200 patents and patent applications and introduced its first biostimulant products in the United States for corn and soy. For more information, visit www.newleafsym.com
FOR MORE INFORMATION, CONTACT:
William Kuser
Director of Investor Relations
American Vanguard Corporation
williamk@amvac.com
David Flack
Vice President Business Development
NewLeaf Symbiotics
dflack@newleafsym.com