Back to All News
Product News
American Vanguard Company (NYSE: AVD) today announced that OHP® Inc., the leading provider of technology-based solutions for greenhouse and nursery production applications, has agreed to become master distributor in U.S. non-crop markets of biological technologies developed by Certis® Biologicals. With the agreement, OHP, an American Vanguard® Company and a vital part of AMGUARD™ Environmental Technologies specialty brand, becomes the sole access point for Certis technologies in U.S. non-crop markets. Certis Biologicals, a part of the AgriScience Division of Mitsui & Company, is a pioneer in the development of biological pesticides and has become one of the world's leading manufacturers and distributors of biopesticides.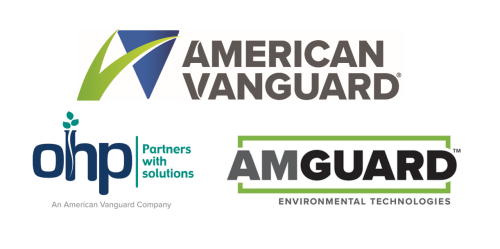 In addition to Certis products which OHP currently markets under OHP brands, the agreement includes commercialization of Certis' BotaniGard® and Mycotrol® products. The agreement also gives OHP exclusive access to Certis' pipeline of new technologies for non-crop markets.
Strategically, the OHP-Certis agreement enhances American Vanguard's commitment to expanding its GreenSolutions™ portfolio and is aligned with AMGUARD's strategy to be a provider of best-in-class technologies and market access.
Shayne M. Wetherall, CEO, OHP, noted, "This is a very important development for OHP and the AMGUARD brand. Certis' products and brands are well established and widely considered to be best-in-class. We are excited to integrate Certis' current and future innovations into OHP's and AMGUARD's rapidly expanding portfolio of GreenSolutions for non-crop markets beginning in 2024."
Amy O'Shea, President & CEO, Certis Biologicals, said, "We are excited to build upon a longstanding partnership with OHP to bring Certis Biologicals biopesticide technologies to the nursery, greenhouse, turf and ornamental and cannabis market. We feel OHP is uniquely positioned with reach, expertise and knowledge to successfully deliver these technologies to growers and retailers in the non-crop segment."
Chris Judd, Head of North America, Certis Biologicals, added, "When looking for a partner in this space, OHP stood out with their skills and capabilities to successfully position our flagship brands BotaniGard and Mycotrol in these markets. These are trusted brands by growers and retailers in the nursery, greenhouse, T&O, and cannabis markets, and finding the right partner was paramount to us. We feel we did that with OHP."

About OHP
OHP Inc, originally Olympic Horticultural Products, was founded with the goal of becoming the leading provider of technology based pesticide solutions for the greenhouse and nursery production markets. Today, as we have evolved into our new OHP identity we are recognized as the leader in this market. The OHP team exclusively markets our products, specifically packaged and labeled for the greenhouse and nursery production markets, through a network of leading distribution partners throughout the United States and Puerto Rico. www.ohp.com/
About Certis Biologicals
For more than three decades, Certis Biologicals has been a pioneer in the field of biological pesticides for commercial agricultural use. We are a leading manufacturer of bio-based products, with innovative technologies and production expertise spanning from fermentation to formulation. We currently own and operate two US-based manufacturing facilities and one international manufacturing facility through a joint venture. We have the largest number of global registrations of biological products and the relationships needed to deliver those products across a multitude of market segments and geographies. Currently, our products are sold in the US and exported to more than 50 countries. Certis Biologicals is headquartered in Columbia, MD. www.certisbio.com/
About AMGUARD Environmental Technologies
AMGUARD Environmental Technologies is an emerging provider of non-crop and specialty technology solutions for the US Public Health, Pest Control, Ornamental & Greenhouse, Golf, Lawn & Landscape, and Consumer markets. From our RTP headquarters and labs, AMGUARD discovers, develops and commercializes a diverse portfolio of proven chemistries, innovative technologies, and green solutions into diverse markets. At our core, we are innovators. We are committed to protecting the population from disease vectors, mitigating structural pest damage, creating healthy outdoor living spaces, and maintaining outdoor sports and recreation venues. Our mission is to provide our customers with powerful technology solutions to keep their businesses strong and growing. www.amguardtech.com
About American Vanguard
American Vanguard Corporation is a diversified specialty and agricultural products company that develops, manufactures, and markets solutions for crop protection and nutrition, turf and ornamentals management, commercial and consumer pest control. Over the past 20 years, through product and business acquisitions, the Company has expanded its operations into 19 countries and now has over 1,000 product registrations in 56 nations worldwide. Its strategy rests on three growth initiatives – i) Core Business (through innovation of conventional products), ii) Green Solutions (with over 130 biorational products – including fertilizers, microbials, nutritionals and non-conventional products) and iii) Precision Agriculture innovation (including SIMPAS prescriptive application and Ultimus measure/record/verify technologies). American Vanguard is included in the Russell 2000® and Russell 3000® Indexes. To learn more about American Vanguard, please reference the Company's web site at www.american-vanguard.com.
The Company, from time to time, may discuss forward-looking information. Except for the historical information contained in this release, all forward-looking statements are estimates by the Company's management and are subject to various risks and uncertainties that may cause results to differ from management's current expectations. Such factors include weather conditions, changes in regulatory policy and other risks as detailed in the Company's SEC reports and filings. All forward-looking statements, if any, in this release represent the Company's judgment as of the date of this release. For additional information on products and services visit www.AMVAC.com. ©2023 All rights reserved. AMVAC Chemical Corporation is a wholly owned subsidiary of American Vanguard Corporation. American Vanguard, AMVAC, AMGUARD, GreenSolutions, and respective logos are trademarks owned by AMVAC Chemical Corporation.
Certis is a trademark owned by Certis U.S.A. L.LC.
All other trademarks are the property of their respective owners.
FOR MORE INFORMATION, CONTACT:
Shayne M. Wetherall
Chief Executive Officer
OHP, Inc.
swetherall@envancetech.com